SCF Broodmares
Broodmares L to R Nova, Moriana and Marie Louise-all KWPN mares
Moriana above
Nova Keur left, Marie Louise Preferent R
Nova enjoying her post weaning freedom!
of Sporting Chance Farm
PLEASE CLICK ON EACH MARE'S NAME OR PHOTO TO SEE THEIR OWN WEBPAGE!
Marie Louise
is now an Elite Préfèrent mare!
(Silvio 1 X Sit This One Outxx X Saluut)
A Keur Elite Mare! Dutch Mare Imported in 2000 from Holland
Marie Louise Elite on left, Nova keur Right
MARIE LOUISE ELITE'S PRODUCE OF DAM CLASS IS 3RD AT DAD IN 2005 AND HAVE BEEN IN THE TOP THREE FOR THREE YEARS IN A ROW AT DAD!
SCF is proud to announce that BOTH OF MARIE LOUISE ELITE'S SONS Zulft and WARTIMES easily qualified for the USDF Cosequin Championships at DAD their first time out!!
Her daughter Thekla Marie was Reserve Champion at her keuring in Holland and was invited to Ermelo where she did very well. She is in foal to the stallion "Sensation", also known as "Florencio". Thekla Marie is a full sister to our filly "Unforgettable" .. Thekla Marie was awarded a provisional keur and will be doing her performance test next month in Holland. She has already passed her x-rays. Marie Louise Elite is expecting an Ulft foal for us next spring and her three 2003 ET foals by Goodtimes are looking great!
Wildcard Elite
(Goodtimes X Silvio 1 X Marie Louise ( Sit This One Outxx X Saluut)
Bleu SCF (BALOU DU ROUET x MARIE LOUISE ELITE)
***Bleu was TENTH in the USA in THE KWPN-NA TOP TEN !!!
Lupicor, sire: above and below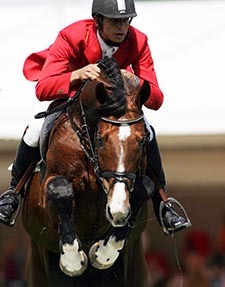 Sire of Bleu SCF is Balou Du Rouet
Modern up and coming producer heading for the top A picture perfect career: after winning one young horse class after another and gaining marks up to 10.0 in his 30-day test, Balou du Rouet successful at the 1.50m level. In 2005 he scored the highest mark of 9.2 at the national championships, making him one of Germany's top 4 licensed stallions. He has enormous jumping talent, combined with great elastic gaits and fascinating charisma.
aka (Madison Avenue) KWPN
Back in foal for 2010 to Newly Licensed Buckskin Oldenburg NA stallion Good as Gold!
(Coriano X Beltrum X Purioso X Joost)
This gorgeous mare competed in the jumpers both in Holland and in the US then successfully campaigned in the hunters INCLUDING a Reserve Championship at the Washington International Horse Show over fences and second out of 56 in the hack At the Wash Int'l Horse Show! This mare had a successful career in showjumping in 2 countries and winning in the hunters at the highest level after importation. MORIANA'S HALF SISTER V.CONCORDE IS JUMPING AND WINNING INTERNATIONALLY!
Jolie
RIP 1980-2011
Jolie foaled a filly in 2006! The only foal in America by Balou du Rouet in 2005(Olympic medalist Baloubet du Rouet X Continue X Contender)! Please see Reference Sires page for more information!
Click photo above to go to Jolie's page!
Jolie herself was a winner at Dressage at Devon, and champion at rated hunter shows. She has produced four foals by Idocus. Three first premiums in the NA/WPN and three in the TOP TEN of the NA/WPN Best of the Best. They are ALL THREE winners or good ribbon winners at Dressage at Devon, including Utopia who won a huge class as a yearling at DAD, and Olympia who has won three times ,(second once), and was second under saddle last year!

Nova keur*
By Consul FULL SISTER TO JUDGEMENT ISF
A FULL sister to Grand Prix Showjumper Judgement!
Number One IBOP in country for the NAWPN!
by Consul out of Faletta (star) x Akteur
Dutch Mare foaled 1995 Bay 16' Star, Keur*
NOVA has received her Keur!
Nova is a talented mare with excellent bloodlines. She is a full sister to the Approved stallion, Judgement, who won the 1999 American Gold Cup with Michael Matz. Nova has three lovely gaits and is very smart. This mare is schooling first level dressage and is very talented over fences. She is jumping 3'6 - 3'9" courses with great form. Nova does automatic lead changes and has the talent to be a successful show hunter or jumper.
Her full brother- Judgement - Winner American Gold Cup Winner NA/WPN - AGA Jumper Award
Judgement Joins USET Jumping Teams

The USET, Gladstone NJ, announced the Show Jumping Teams for the Samsung Nations Cup World Final in Madrid, Spain, September 20-23, 2001. The team consists of 2000 Olympic Show Jumping teammates Margie Goldstein-Engle riding Hidden Creek's Perin; Lauren Hough riding Windy City and alternate Todd Minikus riding Oh Star and Beezie Patton Madden riding Iron Spring Farm's, Judgement [by Consul]. This same team will compete at the CSIO Spruce Meadows in Calgary, Canada, September 5-9, 2001. McLain Ward of Brewster, NY and Alison Firestone of Upperville, VA are alternates. George Morris will serve as Chef d'Equipe. The riders were selected according to their ranking on the July 27,2001 USET Show Jumping Computer List. See Judgement's Show results and other statistics.
FIRST PREMIUM KWPN filly